Hello beauty lovers 👋
I hope you all are doing wonderfully well! And if not, I hope this post cheers you up 🌞
But please, sit tight because this will be a long one. Of course! We'll be having 25 products to be talking about after using them for 1 year! 😀 So, take your cup of hot chocolate (or coffee, if you prefer) and enjoy the beauty talk! ☕
⚠️ Spoiler alert ⚠️ Makeup look with some of the products at the end of the post 🤫
First look of the box!
Not much to say except for the fact that the Advent Calendar was priced at £79 and all the products that it contained was worth over £300 (we'll talk about this later during the post). Other than that, as you see it has a very Christmassy look and inspired colours. Also, all the numbers were gold-foiled on the little boxes. Classy!
Boxes 1 to 8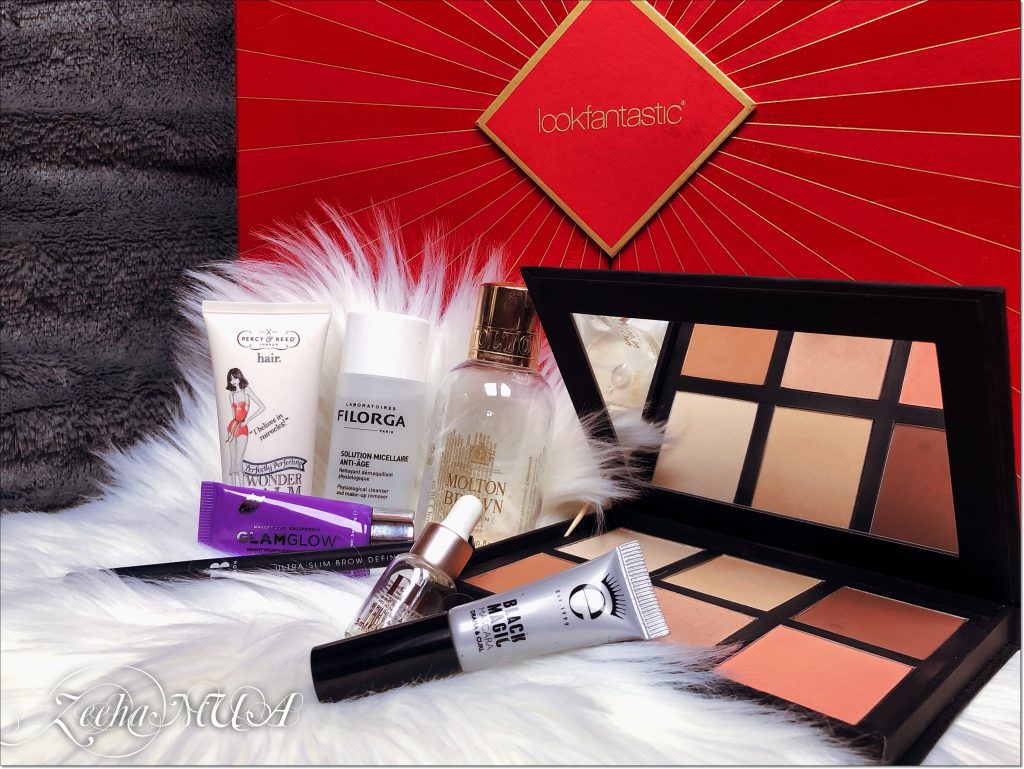 HD Brows Contour and Colour Pro Palette – £60
I have to say that I am completely in love with this palette! 😍 I even stopped using my other powders and blushes because this one is so practical, handy and goes super nicely with my skin tone. You have all what you need in it to finish your look (light and medium face powder, contour, light and medium shimmering powder) and the powders are very pigmented; you need just a light touch from your brush to do an amazing contouring! For me, this is a win! ✅
Physiological Cleanser and Makeup Remover by Laboratoires Filorga (Paris)
(50ml in the box | The 400ml is sold at £15)
It is basically a 2-in-1 cleanser and makeup remover for the face and also, for the eyes.
On my side, I have used this product only once and being a very gentle formula, it does not effectively remove makeup. Good? Bad? 🤷‍♀️
I do not remember how many cotton balls I used to remove my evening makeup but it was quite a lot. The micellar water did not work at all for me and does not remove waterproof makeup also, just so you know.


Alternative use: If you have not worn makeup at all during the day, use it before going to bed. It will hydrate and soothe your skin.

Wonder Balm by Percy & Reed (London)
(30ml in the box | The 75ml is sold at £18)
Apparently, it creates wonders… ✨
But, what is the Wonder Balm? It is actually a leave-in balm that prepares and primes your hair before styling so that it is frizz and humidity-free for up to 72 hours! Did not try it yet 😞 Meaning, no feedback yet…


Application: Towel-dried hair. Do NOT rinse afterwards.

Black Magic Mascara by Eyeko
(2ml in the box | The 8ml is sold at £19)
Basically enriched with Shea Butter and Keratin, the wand indeed, coats the lashes from root to tip. The small bristles are not completely smooth so, they easily hug the lashes until the tip (which is not a bad thing at all).However, the mascara is supposed to be water-resistant and provide a carbon black finish which, unfortunately does not. I really feel that it wears out of colour during the day and does not give any voluminous effect.
For me, it would be the mascara that I reach out for my everyday-use because at the end of the day when I am washed-out, a little bit of makeup remover and it's off.
Ultra Slim Brow Definer by Blink Brow Bar (BBB) – £17
This retractable pencil is available in 5 different shades and is infused with nourishing and conditioning ingredients. They say that it is waterproof and smudge-proof but I have to test to see if that is true or not 😉 I used it maybe only twice and I have no idea if it is waterproof… But, it did not smudge so, that is one checked already. Also, the precision tip makes it easier to fill in your brows and finely perfect the shape.
Brilliance Facial Oil by Emma Hardie (EH)
(5ml in the box | The 30ml is sold at £39)
It has a particular fragrance (it is made up of nine different essential oils and five plant oils – just imagine!) but this did not bother me at all; it actually made me remember a plant that my grandparents used to grow on their terrace that I was kind of "destroying" and then, got scolded from it when I was a kid 😂😂😂
OMG, I found it – the one and only Google – it is the Pelargonium Citronellum!

Anyhow, let's get back to the oil 😅 It is very moisturizing and I was using it as my morning substitute for face cream ("was" is being used here because I am at the last drop already 🤷‍♀️).
I will definitely buy the full size and continue using this product because it made my skin so smooth and radiant. Win ✅


You can also use it underneath your moisturizer for an extra hydration and boost.

Gravity Mud Mask by GLAMGLOW – £16 for 15g
15g is not a lot… Oh well 🤷‍♀️
I have looked a bit around for the quantity/price because for 15g, it does look expensive. The mud mask is also available in 50 and 100g which seems more reasonable in quantity and the 50g is sold around $35,50 when on sales. I have come across a lot of tutorials where influencers are using masks by this brand but I did not have the chance or the time, more precisely, to go and buy myself one (thank you lookfantastic! 😜)It is actually a firming mask, becomes an iridescent chrome colour when it dries up and peels away. The silver colour made me look fancy – as if I came from a spaceship lol – and it actually smells good. Once applied, I felt a slightly tingling sensation on my skin then, super refreshing like menthol and then, neutral. Used it only once to test it out and for info, the 15g tube has maybe 3 max uses, not more.
Bath and Shower Gel by Molton Brown (London)
(100ml in the box | The 300ml is sold at £22)
I think this is my second favourite (after the HD Brows palette) from the advent calendar. It was not a 15ml bottle nor the full-sized version but just the perfect quantity to try out/use.
And, the smell… Just. Amazing. The way this shower gel is defined by Molton Brown is so symphonic and captivating:

"An Egyptian landscape captured in late summer's blushing dusk. Royal jasmine blooms, painted as tiny stars in a sea of fields. Faraway rose sands rise and fall like dynasties with a single brushstroke. Beguile your senses with a deltaic masterpiece."


I just fell in love with this product 😍 And is definitely a "buy-again" ✅
Boxes 9 to 16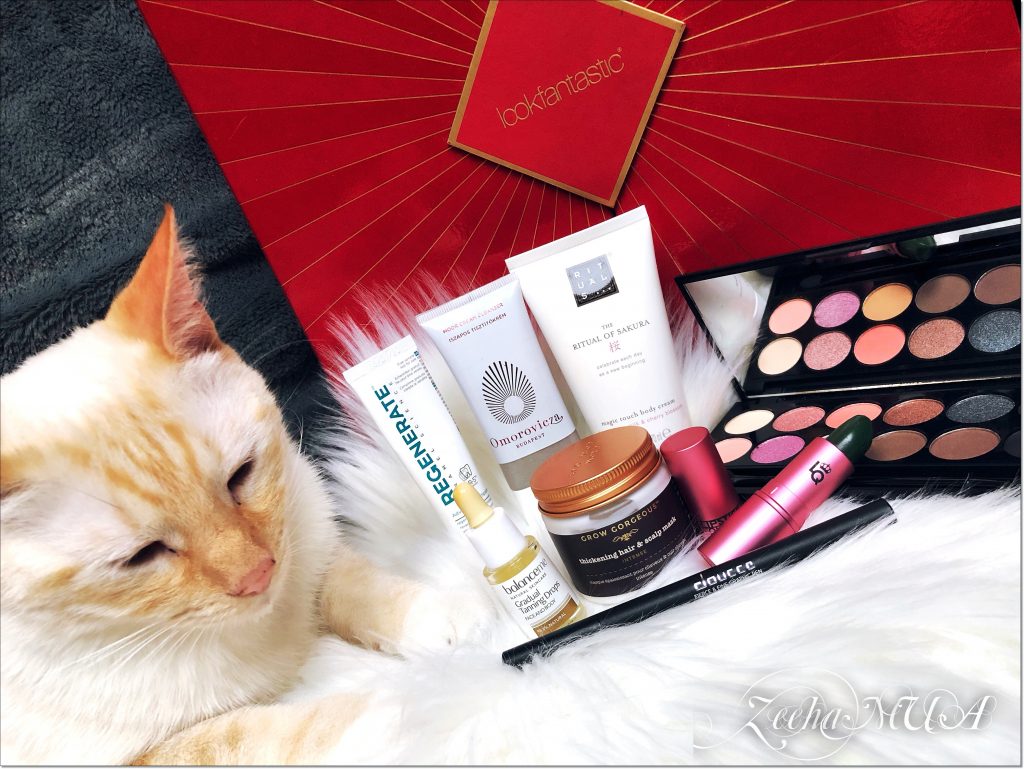 Advanced Toothpaste by Regenerate Enamel Science
(14ml in the box | The 75ml is sold at £10)
I have no idea if this is true or not but the toothpaste is described as revolutionary. Years of extensive research and patented by NR-5™ technology; it works to reverse the early erosion process and protect against cavities, acid and decay. I am quite curious of the effect and I think I will buy a full size and test it for more than just a few days.
Moor Cream Cleanser by Omorovicza
(30ml in the box | The 150ml is sold at £54)
Actually pronounced "o-mo-ro-veet-za", the Hungarian Moor Mud comes from the largest thermal lake in Europe, Lake Hévíz. This gentle, detoxifying cleanser eliminates impurities without over-drying or making your skin uncomfortably tight. The deep pore cleansing action reveals a smoother, more refined appearance.
I do actually like the cooling effect of this cleanser on my face (I think because it makes me feel like it's working 😜) but the cooling effect is due to the following essential oils: Camphor, Peppermint and Eucalyptus. Even though the price is a bit higher than the average products here, I am very tempted to make this cleanser part of my skin care products.
Magic Touch Body Cream by Rituals
(70ml in the box | The 220ml is sold at £19,50)
I was really pleased when I found this product in my Advent Calendar 😄 Being a loyal customer of Rituals' products, the Ritual of Sakura collection is the one that I prefer. I love the perfume of the Sakura flower; it smells so delicate, feminine and velvety. The body cream is indeed a song of Organic Rice Milk and Cherry Blossom. The "magic touch" is used for this cream because unlike most body creams, your skin does not feel sticky or oily after the application but silky, supple and smooth.
This is definitely a win ✅
Intense Thickening Hair and Scalp Mask by Grow Gorgeous
(60ml in the box | The 200ml is sold at £25)
The mask contains powerful Amino Acids and Caffeine to stimulate the roots while strengthening each strand of hair. It also contains rich Shea Butter and Coconut Oil to condition, smooth and promote luscious locks.
This mask smells really, really nice! 😍 I used it like twice only but felt the difference directly when I was rinsing my hair. It definitely felt "heavier" (stronger?) and when it dried up, it was very shiny and light:However, to be able to see any long-term result, I have to use the mask more often – which I did not do yet because I am currently using a hair mask from Rituals and this one, is just a sample size. We'll see…
Gradual Tanning Drops by Balance Me
(4ml in the box | The 30ml is sold at £30)
Okay, I have never used any tanning products in my life ever before 😦 However, I am willing to try those drops… Even if I am a bit scared inside 😂 But before, let's look at the product details; it is 98,8% natural (I have no idea what is that supposed to mean 🤷‍♀️), gives a natural-looking tan with no unpleasant smell for face and body.
Application: Start with 1 drop mixed with your everyday face moisturizer or body cream. Do NOT use face oil.
 Frog Prince by Lipstick Queen – £22
It is definitely not a green lipstick, I assure you! 😅
This lipstick gives you a semi-sheer natural finish and moisturises your lips at the same time! How? Why the green then? 👽
Even though it appears green in the tube, depending on your natural colouring, warmth and pH level of your skin, the colour transforms into a unique rosebud pink shade.


Tip: Swipe on another layer and another and the pink shade will grow deeper and more pigmented – it will look more like a stain.

i-Divine Mineral Based Eyeshadow Palette by Sleek Makeup – £8,99
In this Advent Calendar, I received the "Oh So Special" palette (there is actually 8 different palettes from the collection i-Divine).
From the looks of it, it looks cute and nude-colour. It has like 5 pearlescent shades whilst all the others are matte and some dark colours to be able to create a smokey look. Sleek says that this palette's shades are super pigmented and long lasting – let's check that 😄
Fierce and Fine Graphic Pen by Doucce – £16
This eyeliner is sold as "high-pigmented" and "long-lasting, smudge-resistant finish". Let's see if it's worth the price
Boxes 17 to 25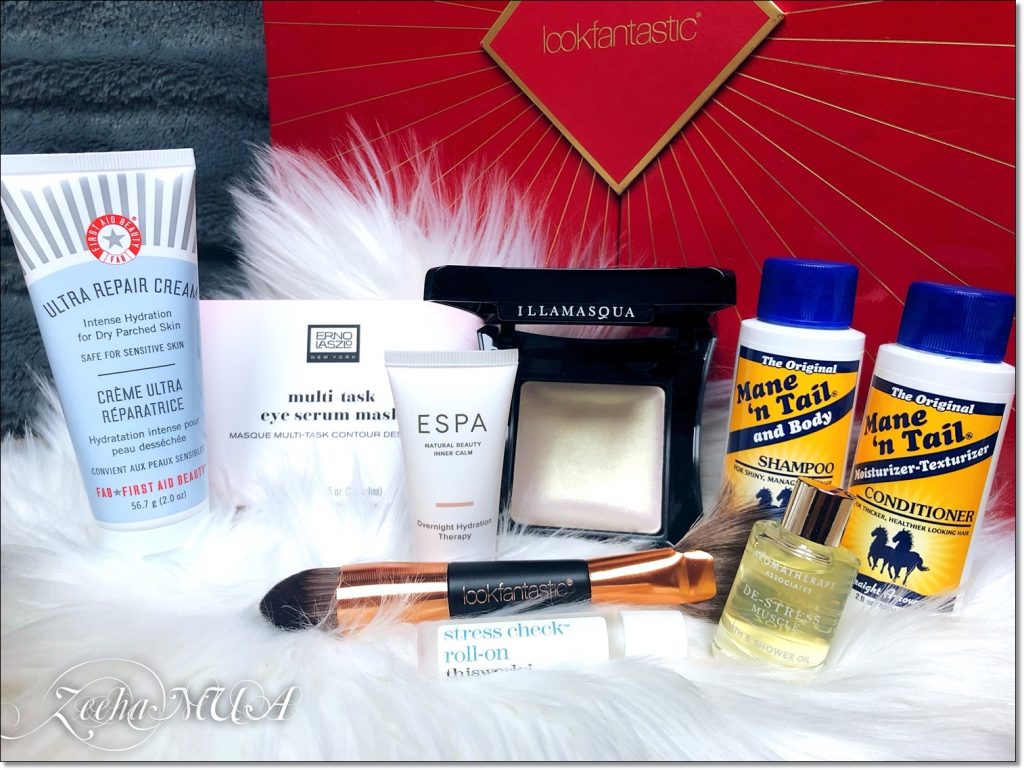 Vinoperfect Radiance Serum by Caudalie
(10ml in the box | The 30ml is sold at £46)
This serum is known as the No 1 anti-dark spot solution but does it really lighten dark spots in only 4 weeks? I don't know! 🤷‍♀️ Simply because the sample size lasts only a few days when you use it day and night and furthermore, if you watched the 2nd part of my unboxing video, you will find out that the tube was half-filled! Outrageous 😡I am basically not a fan of Caudalie products because the first product I bought from them for dry skin (which was advised to me by the pharmacist) did not work out at all for me! The moisturizer was sticky and peeling – maybe my serum and the moisturizer did not work well together, maybe it was not the right product for me, so many maybe's and I would not know what went wrong; it just made me dislike the brand in general and not worth the price.

Putting my "hate" aside 🤪, this satin-soft serum provides anti-oxidant and anti-ageing action by stimulating collagen and elastin production. It is ideal for smokers, scar marks, sun-derived or age-related dark spots or pregnancy marks that will give your skin a more unified appearance, leaving you with a luminous complexion. I have to say that this product worked fine for me though and from the result that they promise in 4 weeks, I might be tempted to buy the full version 💭
Tip: Combined with your sunscreen, the serum will encourage an even, longer lasting tan and is heralded as Caudalie's summer hero product.


Ultra Repair Cream by First Aid Beauty – £12
Hey, one full-sized product! 😁 It's been a while since I have seen this product in the FabFitFun box and lots of good echoes about it. This body and face cream is ideal for anyone who suffers from allergic eczema, psoriasis, atopic dermatitis and many other minor skin irritations. It will directly calm your tired, itchy and flaky skin. They also tell you to use as required.

Again guys, I am so sorry I have no idea if it works like it says – I used it as a hand cream 🤭 Sometimes, I had dry patches around my lips and I applied some of this cream there but I did not see much of a difference; they were still there and did not "heal" it.

Overnight Hydration Therapy by ESPA
(15ml in the box | The 55ml is sold at 37£)
It is actually an intense treatment mask that will leave your complexion replenished and radiant. It smells like weird herbs and essential oils (a bit like the Tiger balm, if you know, but calmer) as it contains the following ingredients: Cedarwood, Ylang Ylang and Lavandin Essential Oils that will actually calm your busy mind 😅
Did not try it yet 🙈
How-to: Massage onto a clean face, neck and decollete until the formula turns white. Allow five minutes for the treatment to sink in before retiring to bed.

Stress Check Roll-on by thisworks
(5ml in the box | The 8ml is sold at 18£)
This aroma-therapeutic roller ball can reduce your feelings of stress by simply inhaling or massaging into pulse points; you directly smell Eucalyptus when you open it. Formerly known as 'Deep Sleep Stress Less', the Stress Check helps those suffering from insomnia, nervous tension and hypertension.
My idea was to use it on my husband 🤭 It's only because sometimes he stresses a lot and grits his teeth during his sleep, don't look at me like that 👀
Shampoo and Conditioner by Mane 'n Tail
(60ml each in the box | 355ml each but both sold at £10,92)
I just love the "Directions for Human Use" on the products 😂
This brand makes a lot of reference to horses, why? Simply because the products are innovative horse to human crossover formulas, originally created to keep your pony's hair soft and shiny.
I use the combo for my short vacations or weekend getaways to avoid using the hotel's and my hair is also in a better state 🤷‍♀️
Dual Brush by lookfantastic
This is actually an exclusive medium-sized brush in this Advent Calendar. On one side, you have a fan brush (for highlighter, eyeshadow fallout, face mask, powder products, ultra sharp contour amongst others) and the other side, a round pointed brush (ideal for cream and liquid-based products – concealers, foundations, cream contours, etc.).
I have not used this brush yet but the bristles are really smooth and light, promising 😊
Bath & Shower Oil by Aromatherapy Associates
(9ml in the box | The 55ml is sold at 48£)
This award-winning Revive Morning Bath & Shower Oil will invigorate and energize your body and mind. It has a super strong smell of essential oils and orange? 🙄 Ah yes, the ingredients say orange peel but also, grapefruit, mandarin orange, Limonene, Citronellol etc., etc.
As it is a bath and shower oil (OMG, I just realised! It can also be used in the shower!), I never tried it because I did not have a bath tub 🤷‍♀️ And now, eventually, I see that if you do not have a bath tub, "massage a capful onto your torso and lower back and chest before showering" – I have to try it now.
Multi-task Eye Serum Mask by Erno Laszlo
(1 pack in the box | The 6 packs is sold at £35)
This saturated eye mask contains Algae extracts, Vitamin B3 and Allantoin, three powerful ingredients to tackle signs of ageing and fatigue around the delicate eye area.
In a consumer perception survey after 1 use, 94% agreed the Multi-Task Eye Serum Mask delivers immediate results – that is quite impressive. Being somebody with dark eye circles, I want to see if this hydrogel eye patch brightens at least a little bit of my under-eye area.
Beyond Powder Highlighter by Illamasqua – £28,90
I received the "Deity" (there are 6 existing shades) which is the second lightest from the range. This ultra-lightweight baked highlighter powder has a unique golden-green hue to add a subtle luminosity to skin. Part of the May Queen collection to celebrate the folklore rituals of May Day, it almost gives holographic result that evokes the fresh, blooming radiance of a dewy, spring-time morning.


Tip: It has a wet application! It can also be used as a long-lasting metallic eyeshadow with an ultra long-lasting finish.
Woah! Finally finished with the products! 🥱
Basically now, my review of this Advent Calendar will come in a second part (let's agree, this post is long enough) and along with it, a look with some of the products of the Advent Calendar 😁 You can also watch the unboxing here: